Contracting Areas
Fencing solutions for the Carolinas, Virginia & South Carolina
We are centrally located in the heart of North Carolina and ready to serve you!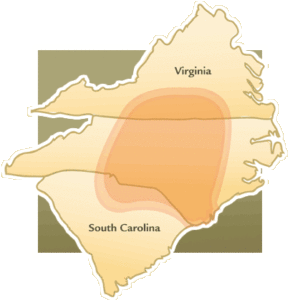 Hall Fence Project Locations
Just like a good fence reaches to the boundaries of your property, Hall Fence has areas of service that reach throughout North Carolina and parts of South Carolina and Virginia.
We're headquartered in the heart of North Carolina so many of our projects take place in the central counties of our home state. Chances are if you live in these areas we've done a fence project near you. Here we want to highlight some of the NC counties we serve on a regular basis.
Lee County
Our headquarters are stationed in Lee County, NC and our fence projects, both commercial and residential, are scattered throughout. Some of our more notable areas of service are fence projects for Tyson Foods, Sanford Department of Correction, and Lee County Parks and Rec. These projects, alongside numerous others, leverage a diverse range of materials and styles and span from large scale industrial, to small and medium sized housing developments.
Moore County
Adjoining Lee County, Moore County is another area of service where we often find our teams constructing fence projects in many locations. To name a few, we have provided fencing solutions for the Moore County Education System, Pinehurst Golfing Association, and Aberdeen Wildlife Club. In this area we've constructed many different types of projects from decorative fences to robust security barriers with access control and automation.
Chatham County
It's common for our fence projects to pop up in Chatham County as well. We work regularly in and around Siler City, Pittsboro, Bear Creek, and Bonlee. Some jobs include Mountaire Farms chicken processing facility, Chatham County Hospitals, and Bear Creek Arsenal. Much of Chatham County is rural community where a good fence provides security and containment benefits, but no matter the objective Hall Fence can develop a fence solution.    
Other Areas
As noted, we consider and accept fence projects in locations across North Carolina and parts of South Carolina and Virginia. The small residential projects that we accept do tend to be closer to our headquarters due to operation logistics, but if a project makes sense and we feel it is a good fit for both parties, we are glad to take it on.
For commercial projects that require greater travel distances and equipment transport, we set up and manage our construction teams on location. These larger scale projects often are milestone based and carry longer completion times, so extra preparation and planning is key to a successful outcome.
If you have a fence project in or near our areas of service, be sure to reach out and request a quote. We'll assess your goals and determine the right fence solution to get the job done.
Hall Fence Company features a large selection of fences such as vinyl, chain link, steel, aluminum and wood.